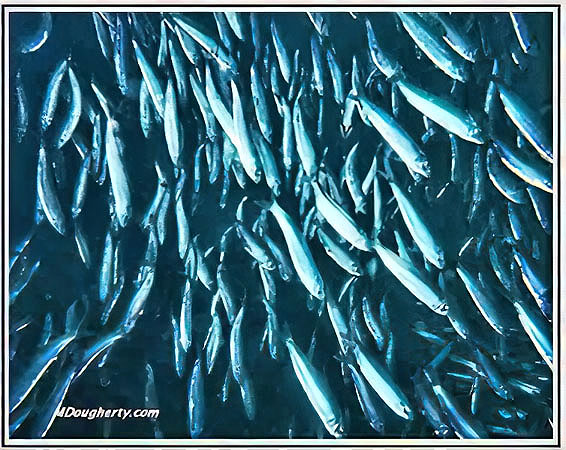 After two days of scuba safety training in a pool, we were initiated
to the deep sea with a tour of a sunken ferry boat at about 60 feet. Jumping off the back of a boat
seems kind of easy but when you add about 80 pounds of gear including a tank, air regulator, back
up regulator, claustrophobic BC vest, and weight belt with extra weights in the vest pockets, I began to think I was nuts.
Storms in the Gulf caused visibility to be less than 30 feet so moving down towards the
sunken ferry seemed like a journey into the abyss. For a while we followed rope guides and then
a professional guide. About the only directions I could distinguish was up or down. It was dark
down and light up.
Although I got no acceptable images of the sunken ferry, at one point I looked up and was
surrounded by fish, a lot of fish. I merely raised the MX5 and shot off a few shots.
The next second, they were gone.